Hello everyone! Welcome to Photo Feature Friday No. 2. If you're new here, I'm glad you came by and if you were here last week, I'm glad you're back! I want to give everyone who participated last week a big, gigantical hug and say thank you for joining me here at my blog...you made me so happy!
So anyway, I hope you've all had a good week. Are you ready for Easter? Did you get your candy and then eat it all? I have to admit that I snuck a few pieces...I made sure to buy things I don't really like, so I wouldn't get too carried away...that's a good plan isn't it? For the big day, I'm going to my parents' house. I'm really looking forward to visiting with everyone and eating, of course.
In celebration of the holiday, the suggested theme for today's photos was "Easter." I had wanted my photos to represent the true meaning of the day, but I was really short on time this week and was having a hard time thinking of something to photograph. In the end, I had to resort to a few simple little vignettes. I used dyed eggs and then added some texture in the form of burlap, a little nest and a plant saucer.
Since I'm always trying to figure out camera settings, I thought I'd share mine. All of these photos were shot using an 18-55mm lens, Aperture Priority mode, ISO 200, f/5 with shutter speeds between 1/30 and 1/60. I used the Sweet Vintage action from
Florabella
and WarmSun from
Kim Klassen Cafe
, both around 40% opacity, depending on the photo.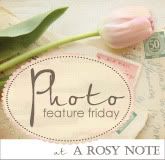 Well, are you ready to razzle dazzle me? I can't wait to see your beautiful photography.

Please remember:
• To include a link to the party or the party's button in your post •
• To go out and share the l
♥
ve •
If you want more party specifics or need to know how to link up, you can look
here
.
Next week's suggested theme is: Pink
Happy Easter ♥ Tricia