Hello you! Welcome to Photo Feature Friday No. 4. I'm so glad you stopped by. Did you visit last week? There were lots of beautiful photos so be seen. I have high hopes that today will be just as wonderful!
I suggested a vintage theme for this week. If you shot something other than vintage feel free to link that up too. My suggestions are just that...suggestions. Well, let's get rolling, shall we? Here's what I came up with...
Of course, I always have to have flowers...daisies today...I'm taking a break from tulips. I wish I could find something a little more out of the ordinary. All I ever see anywhere is tulips, roses and daisies. Anyway, I decided to pair the flowers with a few old books for some nice texture, and then add of couple of little marmalade jars to the mix.
As you can see, I have a thing for close-ups.
There's that old pie safe that I showed you in my last post. That came in handy. It seems to make a nice backdrop. Don't you think?
I didn't do much processing of my images today. Mostly I just lightened and brightened and then threw on a texture to accentuate that vintage feel. I was feeling tired.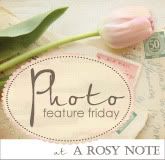 Well, are you ready for a photo show and tell?
I can't wait to see your beautiful photography!
Things to note:
• Extra hugs to you if you mention photography in your post •
• Please include a link to the party or the party's button in your post •
• Go out, mingle and leave a few comments for others •
If you want more party specifics or need to know how to link up, you can look
here
. Please link your post,
not
the main page of your blog. I've noticed that some people are doing this. If you need to know how to link to your post please click the link above.
Next week's suggested theme or challenge is: Spring
Best wishes ♥ Tricia