Hello to you! Welcome to Photo Feature Friday No. 6. If you're new here, thanks for stopping by and if you've visited before, thanks for returning! I suggested a theme of White for this week. If you photographed something other than White feel free to link that up too.
Since I've been feeling extremely tired and not up to doing much, I didn't come up with a whole lot for today. I took five pictures and I'm showing you four of those. The entire photo session took all of about five minutes...so don't expect too much ;)
I love old keys, don't you? I decide to pair this one with some chamomile flowers...one of my contributions to the white theme of the day.
Then I thought of all the white starfish I have and how they'd be perfect for a photo or two, so I threw those into the mix.
Hold on...I hear the dog barking his head off...I have to go check it out. Maybe he knows I want to come upstairs and have some cheese and crackers :) I'll be back...
Okay, here I am. All is well now. I had a snack while I was gone and I'm feeling a wee bit better.
Let's get back to business. See that pretty handkerchief? I got it from my friend
Rachel
. Hi Rachel :) I thought it looked so pretty with my grouping of whites.
Well, that's all I have. Want to know the specifics? Here they are...I shot all of my photos on AV mode at f/5 or f/5.6, ISO 400 and shutter speeds of 1/25 to 1/40. I did minimal processing of my photos, just the Milk and Honey action from Flora Bella.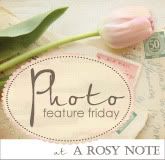 Time for a photo show and tell. I can't wait to see your beautiful photography!
Things to note:
Use only your own photos, not those found on the web.
Link your post, not the main page of your blog.
Please include a link to the party or the party's button in your post.
Go out, visit and leave some comments for others ♥
If you want more party specifics or need to know how to link up, you can look
here
.
Next week's suggested theme or challenge is an easy one: Flowers
Have a good weekend ♥ Tricia