Hi there! Welcome to Photo Feature Friday No. 7. So happy you came by for a visit! If you recall, the suggested theme for this week was Flowers. Mmmm...my favorite, as you probably know. If you photographed something other than Flowers, you can certainly share that too.
Do you remember me mentioning last week that I was soooo tired? Well look...see these white flower photos? They're some pictures I had taken and intended to use for last week's white theme. Wooo hooo...I think I was a little out of it or something! I didn't even remember these photos, until I saw them a few days ago. Luckily, they worked out for this week's flower theme :)
The last one is my favorite. I like the little peat pots in there.
The processing of my photos was very minimal. I just lightened them a smidge and then used the Cosmopolitan action from
Florabella
. You know, sometimes people ask me about actions and textures and what they should do. If you're just looking for an easy way to process your photos, I would highly recommend
Picnik
. It's lots of fun and free too. Trust me, you'll love it.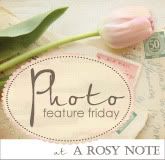 Time for a photo show and tell. I can't wait to see your beautiful photography!
Things to note:
Use only your own photos, not those found on the web.
Link your post, not the main page of your blog.
Please include a link to the party or the party's button in your post.
Go out, visit and leave some comments for others ♥
If you want more party specifics or need to know how to link up, you can look
here
.
Next week's suggested theme or challenge is: Food
• • • • • • • • • • • • •
One more thing...I have a little giveaway going on right now.
If you'd like to enter just click
here
.
Oh one more thing actually. For anyone who is having commenting problems, try this...when you are logging in to Blogger uncheck the little box that says "stay signed in." I did this and all is well now. Hope it helps you too.
Have a safe and wonderful Memorial Day weekend ♥ Tricia