Hello. Welcome to Photo Feature Friday No. 3! I have some pretty pink tulips to show you today. If you recall, pink was today's challenge...if you took photos of something else, that's okay too :)
I had a terrible time trying to get these pictures. Since I'm still learning the ins and outs of my camera and photography too, for that matter, I always try to focus my attention on good composition and lighting. I never use the flash when taking pictures, just natural light....however, it has been so dreary and rainy here that things weren't really working out the best.
I used the Color Pop action from
Florabella
and the WarmSun and Serendipity textures from
Kim Klassen
on my photos to try and jazz them up a bit. I think I overdid the texture on the one above with the "E" though...now that I'm looking at it closer.
I shot all of my photos on AV mode at f/4 or f/4.5, ISO 200 and shutter speeds of 1/15 to 1/30. I wish I could've taken some closeups of the flowers...I want a macro lens so bad I could almost cry!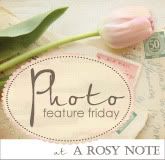 Well, are you ready for a photo show and tell?
I can't wait to see your beautiful photography.
Things to note:
• Extra hugs to you if you mention photography in your post •
• Please include a link to the party or the party's button in your post •
• Go out and share the l
♥
ve •
If you want more party specifics or need to know how to link up, you can look
here
. Please link your
post,
not the main page of your blog...I've noticed that some people are doing this. If you need to know how to link to your post please click the link above.
Next week's suggested theme or challenge is: Vintage

Best wishes ♥ Tricia